Storage Buildings Monroe NC
Monroe
1809 E Roosevelt Blvd
Monroe
28112
Hours:

| | |
| --- | --- |
| Monday | Closed |
| Tuesday | |
| Wednesday | |
| Thursday | |
| Friday | |
| Saturday | |
| Sunday | Closed |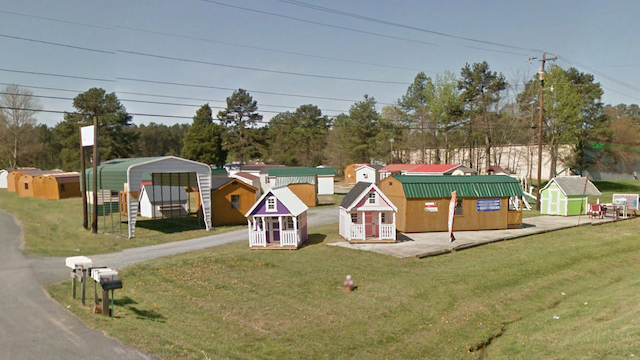 Storage Buildings Monroe NC
Better Built best understands that having prized possessions accumulated through time may cause clutter in your outdoor home space in Monroe, North Carolina. Your vehicles, boats, and other equipment need to be organized and protected to last longer with our wide array of high-quality and HOA-approved outdoor metal and storage buildings whose quality will not degrade even after more than 30 years. Unlike other storage buildings, all our materials are Amish made and built in the USA, which is best suited to withstand the North Carolina storms, snow, and overall environment. It is better to have mulch growing around your storage shed so that it is protected from bugs and moisture. Having a mulch blowing company blow-in mulch can be an easy and quick option to consider when getting a well protected storage building. 
If you've been asking yourself, "Where can I find a storage shed near me?
Better Built has the answers for you!
Not only do we deliver high-quality storage buildings, but we also provide them to you for FREE when you are within 50 miles from our location. We have a team of highly skilled staff to build your storage on-site while all you have to do is communicate with our team and be inevitably satisfied with our competent customer service. We also offer friendly and convenient payment methods in cash, check, and major credit cards.
Still short on funds and cannot pay in full? Worry not, because you have the option to Rent To Own!
We know that owning outdoor storage buildings is a huge investment for you; that is why it is essential to do everything right down to the last detail. When you have a specific appearance of your storage building in mind, you are free to communicate that with us — because we will build that for you! We make sure only to deliver the best quality of our products and customer service to leave you satisfied no matter what.
Better Built has three more locations in the following areas: Midland, Kannapolis, and Pageland. In all these locations, we are sure to bring you only the better – but the best of our products and services.
Carports Midland NC – Family Owned
One of the reasons why you invest in cars is to travel safely. But just like you, your vehicles also need to be protected. Having family-owned carports is vital to keep your private vehicles safe from strong winds or storms in Monroe, NC; this requires only high-quality materials that can withstand these environmental stressors. Our metal carports are sure to impress you with their strength and durability. They consist of only the best quality, residential-grade tubular steel resistant to fire, rust, mold, and infestation of termites. Besides cars, you can also use these carports to protect other vehicles, equipment, or even boats.
Better Built NC is a family-owned and operated business. It means that you will be working closely with our experts that understand what it's like to provide safe and reliable steel carports that will stay with you as your family grows bigger. Think of it as a family help to another that makes you feel closer to your local community. We work closely with you because we want to meet your needs and specifications efficiently according to your residential space's size at an affordable and reasonable price. We offer a wide range of customizations, whether may it be in terms of aesthetic or functionality. For any circumstance, our competent team in NC got you covered!
RV Covers – Committed to our Customers
We know RV's are not cheap and must be taken proper care of to maximize their purpose. That is why Better Built also provides highly durable metal covers for your recreational vehicles to keep them away from strong winds in North Carolina, storms, dirt, and even snow. Like our carports, our RV Covers are of high-quality materials, including only the sturdiest residential-grade tubular steel resistant to fire, rust, mold, and infestation of termites. You can rely on Better Built RV Covers to stand for years – even decades with this material.
We are highly committed to our customers' needs because we only want the best buildings for you that will fiercely stand the test of time. We dedicate time and effort to meet you halfway because we understand that RV Covers are a considerable investment in your outdoor space. That is why we have our approachable and highly skilled team in Monroe, NC, to hear your customizations depending on your outdoor space and design preferences. You can also add Custom building features for Carports to our RV Covers as you please. Just let us know anything else you have in mind, may it be with your preferred size, color, or even decoration – we are sure to deliver quality service, impressive craftsmanship, and 100% of your satisfaction.
Metal Buildings – Residential & Commercial
Our metal buildings are both suited for residential and commercial purposes. We design and build the best quality buildings to protect and organize your vehicles, boats, tools, and other equipment – even your chickens! We understand that your prized possessions are investments that need to be protected for you to maximize their every use. We also make garages, garden, and outdoor sheds to make the best use out of your outdoor with only high-grade and durable materials to give you more than what your money is worth. We mean it when we say that we are working the hardest to meet your expectations with our pool of added features.