Storage Buildings Midland NC
Midland
420 Hwy 24 27 W
Midland
28107
Hours:

| | |
| --- | --- |
| Monday | |
| Tuesday | |
| Wednesday | |
| Thursday | |
| Friday | |
| Saturday | |
| Sunday | Closed |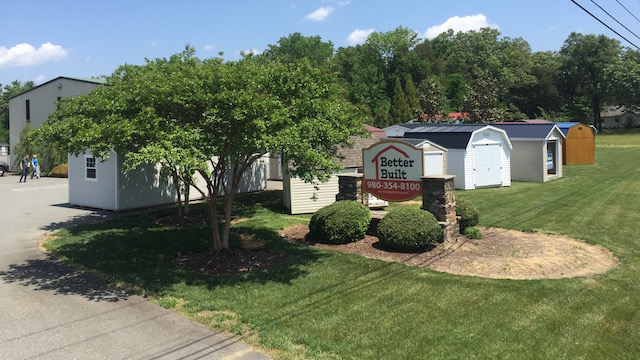 Storage Buildings Midland NC
Better Built understands how much you need to take care of your things in your outdoor home space in Midland, North Carolina. Through time you may have accumulated things like vehicles, boats, and other equipment that may just be hanging around unprotected to gather dust, dirt, and inevitably drenched in rain or snow. You don't have to worry because we offer a wide array of high-quality and HOA-approved outdoor metal and storage buildings whose quality will not degrade even after more than 30 years. The materials we use are Amish made and built in the USA – all durable enough to withstand North Carolina storms.
We offer all sorts of storage buildings such as:
Carports Midland, NC
Metal Buildings Midland, NC
Chicken Coops Midland, NC
Other Products:
Garden Shed
Metal Garages
Carport Builders
You will not only get high-quality storage buildings, but you will also enjoy FREE DELIVERY when you are around 50 miles from our Midland NC Location. We have a team of hardworking and highly skilled staff also to build your storage on-site for free. All you need to do is reach out to our Midland NC team and enjoy our competent customer service. We make your convenience a priority that is why we also offer friendly and convenient payment methods in the form of cash, check, and major credit cards.
Still short on funds and cannot pay in full? Worry not, because you have the option to Rent To Own!
We know that owning outdoor storage buildings is a huge investment for you; that is why it is essential to do everything right down to the last detail. When you have a specific appearance of your storage building in mind, you are free to communicate that with us because we will make that happen for you. We make sure only to deliver the best quality of our products and customer service to leave you satisfied no matter what.
Types of Storage Buildings Midland NC
Running out of space to store your yard tools? Maybe you would prefer to have a workshop area for all of your handyman tools? No matter what your needs may be for extra space, a storage building would be a great solution. Better Built offers unique storage buildings in Midland NC & the surrounding areas. All of our storage buildings come with free delivery for up to 30 miles from your purchase location. These locations include Midland, Monroe, & Kannapolis NC & Pageland SC.
We offer an array of options for storage buildings in Midland NC. These customization options include colors of siding, shingles, different window types, door types, and so much more! Our storage building Midland NC selection includes:
With our wide range of style options and customizations, we are sure that you will find the perfect storage building for your space. All of these storage sheds are backed with our premium quality product guarantee. This guarantee ensures every purchase will be coupled with an unparalleled satisfaction experience.
Metal Storage Options
Carports Midland NC – Family Owned
Vehicles take us to different places safely. That is why it is only necessary that we take good care of them. One way to do these is to protect them from North Carolina storms and strong winds. Better Built offers carports for your family made of only the most durable materials and built most sturdily. It consists of the best quality, residential-grade tubular steel resistant to fire, rust, mold, and infestation of termites. Do you also own boats and other equipment? Worry not, because we design these carports to protect these prized possessions of yours – keeping them away from dust, dirt, falling branches, and other unwanted things.
Better Built Midland Office is a family-owned and operated business, which means that you will be working with another family that knows best how to build your carports. A family will understand another family. Think of it as a family help to another to make you feel closer to your local community. We make sure to work with you closely to meet your expectations and leave you 100% satisfied. We will specifically tailor-fit your residential space's size and provide extra features that you need from our wide selection of customizations for functionality or even aesthetic reasons. Whatever you have in mind, our team of experts in Monroe, NC, will guide you every step of the way.
Custom Building Features include:
Moisture / Condensate Barriers
Horizontal & Vertical Siding
Up to 60' Widths & Unlimited Lengths
Commercial Grade Panels
Heavy-Duty Framing Options
Additional Services:
Grading & Land Prep
Foundations & Concrete
Metal RV Covers midland nc – Committed to our Customers
Better Built understands that recreational vehicles are a huge investment. To fully maximize its potential, someone must protect it from unwanted environmental stressors. We provide sturdy, high-quality RV metal covers to protect these prized possessions from strong winds, storms, snow, dirt, and the overall North Carolinian environment. Like our carports, we use only the sturdiest residential-grade tubular steel resistant to fire, rust, mold, and infestation of termites. This material durability level is sure to leave you satisfied for years, or even decades to come.
We only want the best for you, that is why we proudly keep a reputation of being highly attentive and committed to our customers' needs. Our friendly and competent staff in Midland NC dedicate their time and effort to meet you halfway because we believe that you only deserve RV Covers to stand the test of time. They will intently listen to your customizations and design preferences. We will lay out all the options for you and communicate with you regularly along the way. You will never feel like you are missing out on something because of our organized and hardworking team. In whatever situation, we are sure to deliver quality products and services for your satisfaction.
Metal Buildings – Residential & Commercial
Whether you want metal buildings for your homes or your business – Better Built got you covered! You can choose from our wide selection of storage buildings and other products to find what is best for your vehicles, boats, tools, equipment, and even your chickens! We design only the most durable buildings made of the most durable materials to ensure that your money will never go into waste. If you search for something extra specific, our team will be working their hardest to meet your needs as always.
Other specifications may include adding the following features:
Rollup Door
Overhead Sectional & Commercial Doors
Fiberglass Insulation
Moisture Barriers
Heavy-duty Framing
If you have more specifications in mind, you may communicate with our Midland NC Team or just fill out the form above!