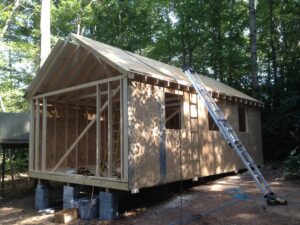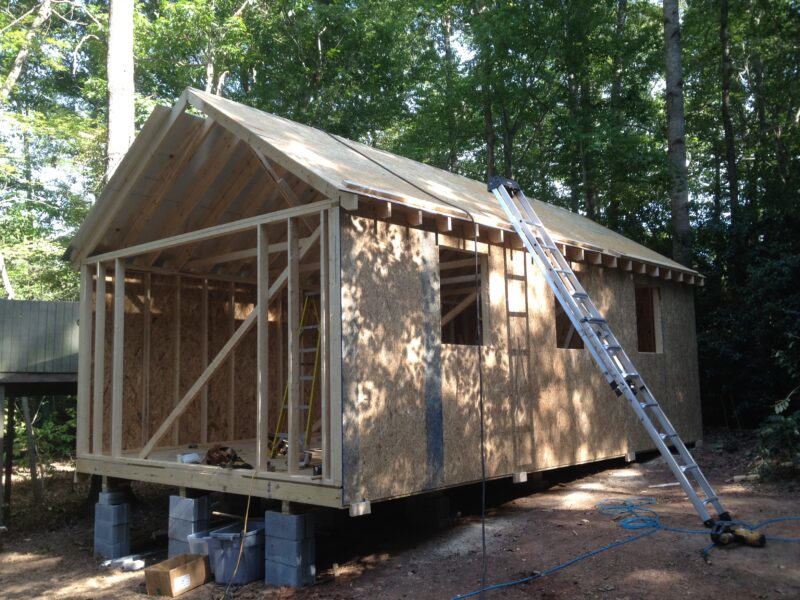 Wooden sheds are a popular choice for many people because they are cheaper and better than plastic sheds. Wooden sheds can be constructed with various materials, including cedar, redwood, pine, cypress, or fir. Wooden shed kits are available in different sizes to suit your needs. Wooden sheds are also easy to maintain by simply staining or painting the outside every few years. If you're looking for a storage solution that is durable and attractive and also budget-friendly- wooden sheds may be what you're looking for!
Some people may choose to build their wooden shed, while others prefer to purchase a pre-made kit. There are many different sheds on the market, so it is essential to research before buying one. Wooden sheds can be an excellent addition to any property and provide years of storage space for your tools, equipment, and maybe some stuff that you cannot handle being parted from.
Since ancient times, wooden sheds have been used as the earliest storage space.  They are made of natural resources and can be very sturdy if built correctly. Wooden Sheds come in all shapes and sizes, so you should have no problem finding one that meets your specific needs. The main downside to Wooden Sheds is that they require more maintenance than Plastic Sheds. You will need to regularly waterproof, stain, or paint the exterior of your wooden sheds.
Having a shed is similar to having a dog in that once you have one, you'll wonder how you ever lived without one. Our sheds become a shelter, a sanctuary, where we may get away from the stresses of daily life.
A shed is so much more than just four crumbling timber walls and a roof plonked at the end of the garden, whether it's for pottering, gardening, DIY, crafting, gaming, brewing beer, reading, or simply getting away from it all. Wooden Sheds are the best option when it comes to affordability.
Sheds are used for various reasons, and Wooden Sheds can be customized to suit your needs. Wooden sheds offer a good deal more flexibility than other types of shed materials. You may get many different sizes or designs that can accommodate almost any need you have in mind.
Another thing to think about is the things that you might horde. You may have collected many things over the years, including sports equipment, tools, gardening equipment, clothing, toys, and more. It's only natural for many of us to accumulate many items as we get older, and when we have our own home, we tend to buy even more.
We may use most of these items regularly, but some of them may only be used during specific seasons or periods. You'll also require additional storage space to accommodate all of this. If you've been considering adding extra storage to your property, a wooden shed could be the answer. The most common shed materials are softwoods such as pine or spruce, the cheapest. However, if you want your shed to last and not decay, it's worth spending a little more and choosing a high-quality, treated wood, such as cedar.
A wooden shed has the upper hand of being a natural material with a steady inside temperature, even during the year's hottest months. The only disadvantage of lumber is that it will shrink and expand due to changes in moisture content induced by changing weather conditions. The good news is that any drastic changes will generally reverse with time.
Here are some more of the essential advantages of having a wooden shed on your property.
·
The appeal and attractiveness
Although a metal or even plastic shed can be used, nothing compares to a wooden shed's overall appearance. Many people still appreciate the beauty of a wooden shed; it may completely change the atmosphere of your garden or backyard, making it appear more lovely and rustic. A wooden shed makes all the difference if you don't want to detract from the design and theme of your backyard or garden, especially if professionals build it.
·
Repairing it is simple
Another advantage of a wooden shed is that it is simple to maintain. When it comes to wooden sheds, it's easy to mend a broken or damaged area because all you have to do is replace the portion with another piece of wood. The same isn't true for metal or plastic sheds; if a part is damaged and needs to be replaced, you'll have to deal with a complete replacement and may even have to get rid of the entire shed.
Also, if your wooden shed loses its varnish, stain, or paint after a few years, you may easily freshen it up. You can re-varnish or repaint the wood in any color you desire, and you don't require professional assistance. A simple coat of paint on the exterior of your wooden shed will make it look brand new. 
·
Modification is simple
You may also make future changes more readily with a wooden shed. You may easily build an extension to your wooden shed if you decide in the future that it needs to be more significant. If you think adding windows would be the answer, you can do so without too much trouble. Not so with metal or plastic sheds; if you want to make any adjustments or modifications, you'll have to replace the entire shed because they're generally sold as a whole rather than in pieces. 
A Wooden shed is a perfect solution for your storage needs. It has many advantages over other sheds, including being more attractive, simple to maintain and repair, and easily modified. There is also the fact that they can survive for decades and raise the value of your home. If you're shopping for wooden sheds, though, make sure you buy them from expert builders and suppliers – it's an investment, after all, and you want it to last. So if you're looking for a better way to store your belongings, a wooden shed is the answer!
Wooden sheds are becoming more popular each year because they have many advantages over other types of sheds. First of all, they are much more attractive than metal or plastic sheds. They also don't require as much maintenance and repair as other materials. In addition, wooden sheds are very easy to modify to fit your specific needs. A wooden shed is a perfect solution if you need extra storage space! 
All in all, Wooden Sheds are cheaper, better, and easier to maintain than Plastic Sheds. If you're looking for a budget-friendly storage solution that will last you for years – wooden sheds are the way to go! Contact us at Better Built USA today!