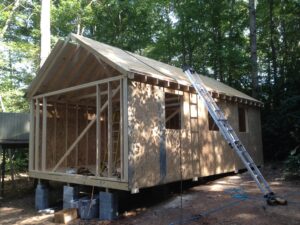 Do you have your wooden storage sheds? Not yet? Then lucky you, because Better Built USA is now ready to provide service to those who need some property building and home customization. If you are exhausted from moving the gardening and carpentry tools from one place to another, just so children will not reach it or it will not be wet by the rain, then getting a wooden storage shed can be your next right choice. 
When we have garden sheds or wooden storage sheds, the space allotted for our garden equipment, carpentry tools, and lawn machines is now in a much safer area. We will not anymore worry about our children playing with the sharp tools for gardening and carpentry. These will all be kept safe in wooden storage sheds. The question is, which of the best wooden storage sheds style will suit your home preference? Don't worry because Better Built USA has the technical team to give you the latest and recommended wooden storage design that will surely catch your taste. 
Is it really necessary to purchase a wooden storage shed? Let us give you some amazing benefits of wooden storage sheds. 
Safety and Protection
Do you have kids in the house? If that is a yes, you might want to consider getting a storage area for all your sharp handy tools and equipment. Why? Wooden storage sheds have the space capacity to store tools and large machines that should be kept away from the reach of younger ones. The wooden storage sheds can be customized to build more space for machinery, shelves, and workspace. A good storage area is a lot safer than a small, sturdy basement room. Chemical and toxic substances like batteries, pesticides, insecticides, rat killers, machine oils, and paints should be stored in a much safer place. And a wooden storage shed can be a great option for that. 
Easy Installation
Our wooden storage sheds are easy to install. You will not waste your time planning on its installation because we have an installation manual that you can use in the installation process. The installation itself is very easy to do, and even a handful of three to four people can finish the job within a matter of hours. Our technicians and service providers can also be your partner in installing your wooden storage sheds if you cannot handle the job alone. Since wooden storage sheds are common garden sheds or sheds with woods, hammers, and other basic tools as raw materials, assembling the shed is much easier than metal and plastic storage sheds. 
 Natural Insulator Design
Woods are natural insulators. So if you are worried about not spending work time inside your wooden storage shed during winter, then you better sweep that thought away because there is nothing much cozier than a warm wooden storage shed compared to metal storage sheds. You can also relate wooden storage sheds to cabins or camping cottages in cold places. Wooden-built properties are very popular in this area because the wooden material keeps the warm temperature inside the room for a longer period. So if you have a colder place and still want to have a storage shed where you can have your workshop or storage area, then getting a wooden storage shed will be a much better decision. 
High Customizable and Flexible
Did you build a storage shed and later think of renovating it for a children's playhouse? Do you want your wooden storage sheds to be cabin space for your guest? Then we, in Better Built USA will gladly want to hear your creative inputs about your preferred wooden storage sheds. Due to their natural aesthetics, wooden storage sheds can be customized to create more creative room space. You can turn it into a workspace for your furniture business; you can also turn it into a barn space where your kids can have quality time with their favorite animals. You see, it is not a problem to renovate a wooden storage shed based on your current preferences. Aside from it being easy to install, it is also flexible as it compromises various uses that can be a great help to your daily task. 
So what are you waiting for? Turn your backyard space into a more engaging and cozy room space. Let us be your partner in building your dream wooden storage sheds. Give us a call through our customer service hotline and schedule an appointment with our top and skilled technicians. Why choose Better Built USA? The name says it all – "Better Built". We are your trusted building provider. Call us now!